WiFi
Today everything is wireless.
Golden Eagle Networks, Inc. has done many WiFi installations for customers up here in Big Bear, even big ones with needed point to point links, just to span big distances.
Planning and setting up a network that exactly fits your site is what we live for !
We walk the site and test every nook and cranny, just to be able to guarantee the best connection everywhere.
We install simple one password solutions as well as complex Hotspot solutions with special authentication models.
We use special different antenna/router solutions for your location. Users might seamlessly switch antennas and are not even aware of it.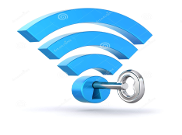 ---